Prepared to Serve
 Comprehensive training for group facilitators
We equip peer leaders to facilitate Christ-centered mental health support groups in their local churches and communities.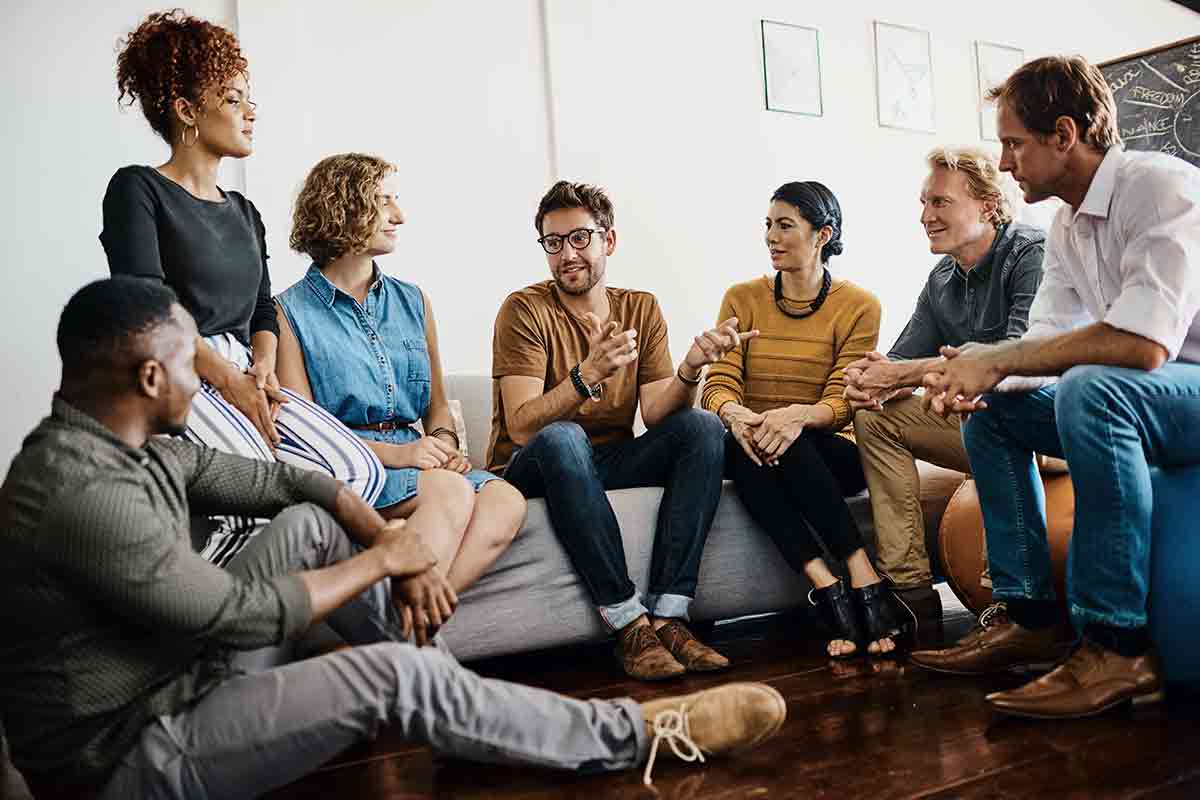 Anchor International is a Christ-centered organization dedicated to creating space for faith and mental wellness. Our peer-led groups provide a safe place for adults and teens to build relationships, share stories, and focus on hope.
The Anchor International Facilitator Training Program takes about 3-5 hours to complete and consists of online videos, downloadable worksheets, and a live Q&A session with our team. Our training and support are provided FREE of charge thanks to the generosity of our donors and partners.
If you're interested in facilitating a group in your church or community, this is where you start! Take a moment to explore these easy steps to becoming a successful group facilitator.
Step 1: Understand my role
Leading a Christ-centered mental wellness group is a special calling and much needed in today's world. It takes a unique set of skills to provide peer support for both faith and mental health. This is why Anchor International is dedicated to equipping group facilitators through a simple yet comprehensive online training program. 
My role as a peer leader: One of the most powerful qualifications for any group facilitator is personal experience with mental health issues or with supporting a loved one. Peer leaders, equipped through training, bring a unique blend of humility and empathy to the group dynamics that foster deep relationships and the honest exploration of life and faith. Peer leaders demonstrate that we are all a work in progress, overcoming mental health challenges one day at a time through the help of Jesus.
My role as a spiritual compass: Anchor International facilitators are grounded in their identity in Christ and are pursuing an abiding relationship with him. They lead with vulnerability, model unconditional love, listen without bias, and are mindful of group dynamics and development. They create a safe space for participants to share and engage. Group facilitators recognize that every participant is on a unique journey with the Lord and is carrying the weight of untold stories shaped by family, culture, race, socioeconomics, and many other factors.
My role as a connector: Facilitators also serve as the relational hub of the group. They are intentional about connecting participants first and foremost with Christ, and then with one another, outside resources, and the greater Anchor International community. Our facilitators are motivated to draw people together to experience hope and healing.
I understand my role as a group facilitator and the importance of being trained to lead a safe and successful mental health support group.
Anchor International offers four different group curricula. Three of these (Overcome, Fearless, and Fierce Love) are 8-week programs, while Anchor Groups provide ongoing support on a weekly or biweekly basis. Before launching an Anchor Group, facilitators are expected to successfully complete at least one of the 8-week groups. Please click here for program descriptions.
I have reviewed the program descriptions and have an idea of which program(s) I plan to facilitate at my church or organization.
Leading a Christ-centered mental wellness group can be both exhilarating and draining. As a peer facilitator, it's essential to step into this role knowing that you have support, guidance, and accountability from a partnering church or organization and at least one co-facilitator.
Get support from your church or organization: Anchor International requires all facilitators to identify a leadership contact at their church or organization who will provide oversight and support. This is important for safety, liability, accountability, and spiritual direction. When challenging issues arise within your group, you have an established leadership team member available to provide guidance and support. 
Get support from a co-facilitator: We strongly advise all groups to be led by at least two facilitators. This helps create a sense of safety and stability within your group. Co-facilitators keep each other accountable as you work together to guide discussions, navigate relationships, and maintain communication throughout the week. It's not always easy, but your group members will benefit from having a unified team to look to, and you can expect to experience greater personal growth as you partner with a co-facilitator.
I have the support of an overseeing church or organization.
I am partnering with at least one co-facilitator who has completed, or will complete, the Anchor International facilitator training program.
Facilitator Training Program
If you're interested in facilitating an Anchor International group in your church or community, simply complete the form below. We look forward to equipping you for this incredible opportunity to serve!